THE 1970s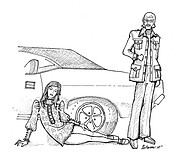 Teddi of California, Fred Rothschild, Joy Stevens and Wayne Rogers. Infinity was making short jumpers and mini dresses at its factory at 127 E. Ninth St., which is now The New Mart showroom building. California manufacturers—such as Sun 'N Sand and Tom Boy of California—jumped on the red-hot jumpsuit trend. For outerwear, there were fur-trimmed coats by Jet-Set and leather jackets by Remy. Young women purchased trendy juniors styles by Irene Kasmer, Byer California, Juli California, Jody of California and its sister label, Tootique of California. Some women favored the crisp, utilitarian and practical look of sportswear made from synthetic fibers such as polyester, nylon and triacetate marketed under the brand names Fortrel, Dacron, Encron, Orlon, Arnel, Trevira and Qiana. Others preferred the romantic "Prairie" look inspired by Victorian and Edwardian styles created by designers such as Bonnie Strauss, Jessica McClintock at Gunne Sax and Sue Wong at Young Edwardian by Arpeja. The romantic look carried over to vintage-inspired accessories by 1928 Jewelry. The popularity of disco gave rise to sexy, body-conscious fashions such as the dancewear-inspired line Flextard, designed by early aerobics aficionado Gilda Marx. Swim brands such as Sirena and Catalina got in on the dancewear-inspired trend, as well, with disco-inspired swimwear and coverups.
California of the 1970s saw the king of sparkle and shine, designer Bob Mackie, making Cher and other fabulous glamour girls glimmer under the spotlight on television every week in sequins, beads and little else. Meanwhile, California's sun and surf crowd had its own style, thanks to surf labels such as Ocean Pacific, Gotcha and Hang Ten. Fashion fanatics flocked to boutiques founded by pioneering retailers such as Fred Segal, Theodore's Herb Fink and Giorgio's Fred Hayman in this glitzy decade. Edith Flagg was creating "the California look" and David Hayes was designing at De Graff of California. Women picked up smart blouses and coordinated sportswear from West Coast labels such as
#This was also the era of denim as Levi's shifted from counterculture to everyday uniform, and labels—such as Sasson, Dittos and Chemin de Fer—made the new phrase "designer jeans" a true fashion statement.